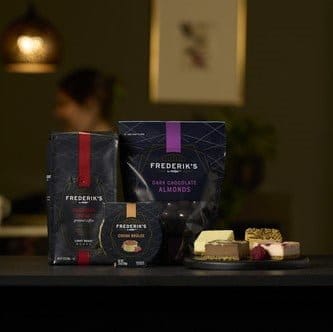 Meijer is seeking products from Midwest chefs and culinary artisans to be featured in its Frederik's by Meijer line of premium and innovative food.
Prospective vendors interested in partnering with the Michigan-based retailer to expand their retail-ready products onto its shelves under its Frederick's by Meijer brand line can submit items for consideration by Oct. 21. Those selected will partner with Meijer to showcase their products in special "Midwest Made" packaging that highlights their stories.
Frederik's by Meijer launched in October 2021. The brand reflects the high standards and vision of its namesake, Fred Meijer, the retailer's co-founder.
"Frederik's makes high quality, innovative and unique foods accessible to our customers for those moments when they're looking to make dining memorable," said Peter Whitsett, Meijer executive vice president of merchandising and marketing. "We're excited to use Frederik's to highlight locally crafted products that show off the culinary talent and ingenuity found in our communities."
To qualify, makers must offer retail-ready products made in Michigan, Ohio, Indiana, Illinois, Kentucky or Wisconsin.
Prospective vendors interested in learning more about what Meijer merchants are seeking should register for an Oct. 17 webinar regarding product requirements, food safety standards and what it means to be shelf-ready.
Applicants must submit their products via Meijer's partner, RangeMe, by Oct. 21. Meijer staff will select finalists to attend a training session before pitching their products live to Meijer merchants at an in-person event this fall.