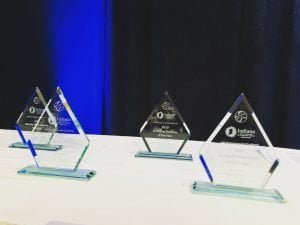 The pandemic has made 2020 a year no one will soon forget. But for attendees, honorees, and organizers of the annual Entrepreneurial Excellence Awards, it also is a time which saw entrepreneurs innovate to keep their doors open.
A message of optimism was conveyed by presenters and award recipients during the Nov. 12 program at the Avalon Manor and presented by the Northwest Indiana Small Business Development Center. This year's event drew dozens to the Hobart banquet facility as dozens more watched an online livestream.
"E-Day always is about honoring the great things small businesses are doing," said Lorri Feldt, regional director of the Northwest ISBDC. "(The awards recognize) the accomplishments of the E-Day winners (and) this year, it really is about the resilience they had to exhibit in these challenging times."
Feldt said "grit" often is used to describe the people of Northwest Indiana.
"Grit is what small businesses and entrepreneurs are all about," she said.
Jonathan Kraft, owner of Kraft Auction Service in Valparaiso, was among this year's nine E-Day honorees. In his video remarks, Kraft said the pandemic presented challenges for his company but it was prepared to meet the challenge.
"Covid made a lot of challenges," he said. In March, his company actively rescheduled auctions but also had to cancel a few.
Kraft, whose company won E-Day's Family-Owned Business of the Year, said online auctions had been a growing part of his business, but the pandemic created more opportunities to further develop that side of his operations.
Damon and Dina Gasaway, owners of Winn Machine in La Porte, said in their video remarks, were this year's Small Business Person of the Year.
Damon Gasaway said the company was on track for a record-year in March, but unexpected business slowdowns because of the pandemic caused the firm's April sales to drop 65%. The assorted government programs for small businesses helped the company through the early months of the crisis, he said.
The Gasaways aren't being slowed by the pandemic. Dina Gasaway in her video remarks the company will continue exploring ways to increase its capabilities, whether its through new equipment or adding more quality measures.
"As we move forward five or 10 years from now, we will hold onto what got us here and that's keeping our customers at the forefront and maintaining our quality," she said.
The other 2020 E-Day honorees include:
Entrepreneurial Success: Stephen P. Arndt and Justin LeBeau, Job-Site Safety, Michigan City
Minority-Owned Business of the Year: Paulette Hill, Professional Information Systems, Hobart
Woman-Owned Business of the Year: Sandy Smith, SAN Corporation, Crown Point
Emerging Business of the Year: Joel and Amy Bender, Mind Benders, Whiting
Small Business Advocate: Heather Ennis, Northwest Indiana Forum
Small Business Journalist: James A. Muhammad, Lakeshore Public Media
Lifetime Achievement Award: Mike Schrage, Centier Bank
Additional information on the honorees is available on the E-Day website as well a video replay of the Nov. 12 event.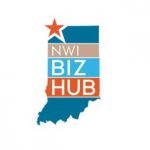 Event organizers also debuted NWI BizHub, a website which offers free access to nearly 60 resources and tools to help businesses find answers to resolve problems as well as steps to help start-ups get operational.
Maggi Spartz, president of the Unity Foundation, one of the founding groups behind NWI BizHub, said the idea behind the website was born from the NWI Forum-led Ignite the Region initiative, which is creating a long-term economic viability plan for Northwest Indiana.
"We knew there were resources to help businesses in Northwest Indiana," she said. "NWI BizHub is a result of collaboration of La Porte (County) and Lake County community foundations and other partners."