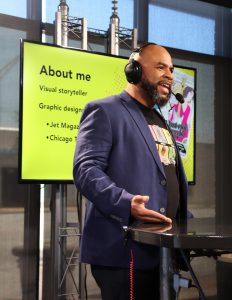 Merrillville's ROCKaBLOCK is among eight businesses across Indiana being honored by the state during Small Business Week 2022 May 1-7.
"This week, we recognize all the small businesses driving our state's economy forward," said Gov. Eric Holcomb. "Indiana is laser-focused on fostering a healthy ecosystem for small businesses, startups and businesses looking to expand their footprint."
ROCKaBLOCK, a custom design apparel company, was founded and is operated today by Rockland Page, who launched the business in 2017. Page's company is 2022 Minority-Owned Small Business of the Year.
Page's story on how he launched his business was featured in the August-September 2021 edition of Northwest Indiana Business Magazine.
Holcomb on May 2 issued a proclamation declaring May 1-7 as Small Business Week in Indiana, celebrating the more than 529,000 small businesses in Indiana and the more than 1.2 million people they employ.
The Indiana Economic Development Corp. is honoring Page's company and seven other small businesses that have worked with the Indiana Small Business Development Center, a program of the IEDC, to start, grow or pivot their small businesses. These awards, presented in conjunction with the U.S. Small Business Administration's National Small Business Week, honor the entrepreneurs' and small businesses' achievements and contributions to grow Indiana's economy and strengthen communities across the state.
The other 2022 honorees are:
Community Impact Small Business of the Year: 3 Sisters Investments, Terre Haute
Entrepreneur of the Year: Kristi and Kelsie Risk, Diamond K Sweets & More LLC, Spencer
Family-Owned Small Business of the Year: AMERI-CAN Engineering, Argos
Innovative Small Business of the Year: NanoBio Designs LLC, Indianapolis
Rural Small Business of the Year: Beneker Family Farms, Brookville
Start-Up of the Year: FIA Technologies Inc., Indianapolis
Woman-Owned Small Business of the Year: Sea Salt & Cinnamon, Muncie
Additional information about this year's honorees is available online at IN.gov.