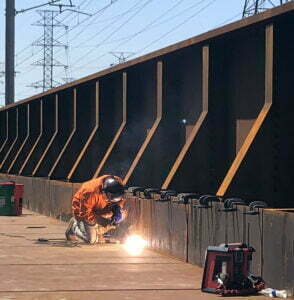 The Northern Indiana Commuter Transportation District reported that the Double Track Northwest Indiana project is more than 65% complete.
Contractor Walsh-Herzog Joint Venture expects work on an 11-mile stretch of the project from Michigan Boulevard in Michigan City to Dune Park Station in Chesterton to be completed this summer.
Trains are expected to start running on the new rail later this summer, according to a recent NICTD update. Passengers will then be bused from Dune Park to Gary Metro stations.
"It is thrilling to work through every challenge together as a team and see construction progress steadily," said Nicole Barker, Double Track Northwest Indiana project manager. "Working on a project that means so much to not only to our riders, but also each and every local community we pass through, is incredibly rewarding."
Construction of two new platforms at the 11th Street station are ongoing. Work left to do includes a new parking lot north of the new platforms, cul-de-sacs, sidewalks and intersection pavers.
Michigan City and developer Flaherty & Collins Properties have begun the bid process for a transit-oriented development that will include the 11th Street station.
Work continues in Burns Harbor and Gary, with parking lots complete in both towns. Workers also are working on four new bridges, two in each of the towns.
Work has started from Dune Park westward to Virginia Boulevard in Gary, and will continue to at least year's end. Testing and training will commence afterward.
The double-track project is on course to meet a May 2024 goal for passenger service, Barker said, including 14 new weekday trains.
The South Shore Line is about 25 miles long and travels through Lake, Porter and La Porte counties. The double-track project adds a second track to reduce travel times and offer more trains.
Caption: New boarding platforms at 11th Street Station in Michigan City are under construction. (Provided by South Shore Line)