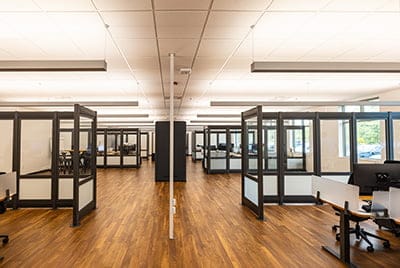 Fronius USA's Portage facility is slated for expansion, including more than doubling its workforce by the end of 2024.
The location is a key component of the international manufacturer's business development strategy, said Klaus Strassmair, managing director at Fronius USA, in a press release.
"Fronius USA will invest in its 400,000-square-foot manufacturing facility to add new solar inverter production lines, a new data center, and to hire new research and development engineers," Strassmair said. "… This will create a wide range of jobs, from advanced manufacturing, technical support, and sales positions to software developers."
A leading manufacturer of solar inverters, the Austria-based company also is a global provider of welding and battery charging technology. It started its solar energy division in the late 1990s, and began U.S. operations in 2002.
"The business-friendly environment in Portage, Indiana, combined with the large pool of highly skilled workers in Northwest Indiana, is why we are investing in this area," said Elisabeth Strauss, CEO of Fronius International and granddaughter of company founder Gunter Fronius.
She also said the "solar boom" in the U.S. was an opportunity they couldn't pass up.
"We made the decision to build new manufacturing capacity in the U.S. years before the announcement to the Inflation Reduction Act (IRA), but of course, it accelerated our activities to get started earlier with U.S.-manufactured solar inverters," Strauss said.
The company recently offered 12 new jobs in software development and electrical engineering to work in the new research and development offices and laboratory. The additions will allow the company to test and analyze products onsite, while also performing pre-certification tests on inverters.
The research and development team is expected to grow to 50 engineers in the next few years. Company officials say the local economy also will benefit from indirect employment from third-party software developers to local contractors, electricians and other service providers.
Mayor Sue Lynch said new jobs for residents are always welcome, especially ones that promote solar innovation.
"We are honored to have Fronius expanding in Portage and investing (in) the future of solar energy," she said.
Fronius, which was founded in 1945, also is in its third generation of family ownership. Its corporate philosophy is fueled by its commitment to community and its employees.
Justina Payne worked her way from a tech support role to team leader and ultimately to head of technical support for solar energy at Fronius USA during her 10-year tenure.
"With their support for growth and learning, Fronius has empowered me to effectively leverage my education and skills," Payne said. "… This journey is a testament to the company's dedication to nurturing talent and promoting excellence."
Fronius officials invite the public to an open house Oct. 19 at its Portage facility at 6797 Fronius Drive. Tours also are available.
Fronius has 37 international subsidiaries in 60 countries. It has more than 7,000 employees worldwide. It also holds 1,446 active patents.
Caption: Fronius USA is investing in its 400,000-square-foot manufacturing facility in Portage. It will add new solar inverter production lines, a new data center, and hire new research and development engineers to work in the new research and development offices and laboratory. (Provided by Fronius)