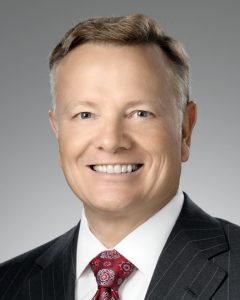 Horizon Bank made sure its retiring CEO went out on a high note. Staff shared high praise for Craig Dwight, who received a Sagamore of the Wabash Award.
"Craig's contributions to create a better life for individuals in Michigan City and La Porte County as well as throughout Northwest Indiana have been remarkable," said Michele Magnuson, Horizon Bancorp's lead director, in a press release. "It has been a privilege to work with Craig and see his inspiration and true dedication first hand when it comes to his community."
Indiana State Sen. Mike Bohacek and State Rep. Jim Pressel were on hand in May to present the long-time Horizon Bank leader with the highest state civilian honor.
"We were honored to present the Sagamore of the Wabash, the highest civilian honor, to retiring Horizon Bank CEO Craig Dwight," said Pressel on his Facebook page.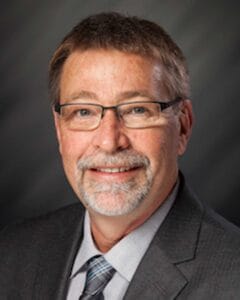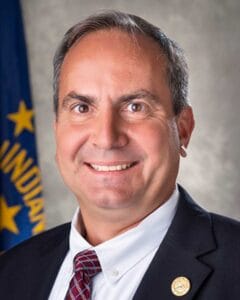 Dwight retires as CEO of the bank on June 1, but continues as chairman of the boards of both the bank and Horizon Bancorp, its parent company. He has led Horizon Bank since 1998.
Dwight credited Gov. Eric Holcomb, Magnuson, Pressel and Bohacek for their efforts in getting the award.
"Thanks to our state's leadership and public officials, Indiana is a great state to live and do business in," Dwight said. "In addition, I was fortunate to work for and lead a company with a 150-year history of giving back to the community and having a people-first approach to business and community."
Dwight's 40-year career included a commitment to the community. He served on many boards of Region organizations, including the United Way of La Porte County. He also chaired fundraisers for the United Way, Salvation Army, Boys & Girls Club, the Martin Luther King Center, Michigan City Area Schools and the La Porte County YMCA. Other organizations also benefited from his counsel, such as the Michigan City Aviation Commission, the Michigan City Economic Development Commission, Purdue North Central Advisory Board, the Chicago Federal Reserve Bank's Community Financial Institutions Counsel, and One Region board of directors.
"As I retire as chief executive officer of Horizon Bank, I am enthusiastic about the future of Horizon and the young talent within the organization that will keep and maintain our legacy of people and community first," Dwight said.
The Sagamore of the Wabash award first was given out during the term of Gov. Ralph Gates from 1945 to 1949, according to the state. "Sagamore" is a Native American term that means a great person in the tribe who isn't chief. Winners include astronauts, presidents, politicians, ambassadors, artists, musicians and citizens who have made their mark on the state's development.
Michigan City-based Horizon Bank is celebrating 150 years of serving communities in Indiana and Michigan. It ranked No. 70 on American Banker's list of Best Banks to Work For 2022.