University of Notre Dame president the Rev. John Jenkins announced that will he will step down at the end of the 2023-24 academic year.
Jenkins has been the university's 17th president since 2005. He will return to teaching and his ministry at the university.
"Serving as president of Notre Dame for me, as a Holy Cross priest, has been both a privilege and a calling," Jenkins said in a press release. "While I am proud of the accomplishments of past years, I am above all grateful for the trustees, benefactors, faculty, staff, students, alumni and friends who made them possible. There is much to celebrate now, but I believe Notre Dame's best years lie ahead."
The university has started a search for the next president, who will be elected by the board of trustees. A replacement will be chosen from the priests of the congregation of Holy Cross, Notre Dame's founding order.
During his 19 years of leadership, the university credits Jenkins with advancing research, attracting and retaining highly qualified faculty, admission in the Association of American Universities, financial stability, recruiting diverse students and expanding its global influence, among other accomplishments.
He also is a member of the Commission on Presidential Debates.
"Notre Dame is and has been incredibly blessed by Father Jenkins' courageous and visionary leadership," said John Brennan, chair of the university's board of trustees. "Together with the remarkable leadership team he has assembled, he has devoted himself to advancing the university and its mission, fulfilling the promise he made when he was inaugurated — to work collaboratively to build a great Catholic university for the 21st century. This is an extraordinarily exciting time for Notre Dame, and we are confident that the next leader will take the university to even greater heights of accomplishment."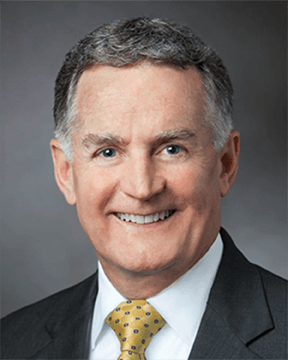 The university also announced that John Veihmeyer, retired chairman of KPMG International, was elected chair of Notre Dame's board of trustees, effective June 2024. He currently is vice chair. Veihmeyer joined the board in 2017 and is a 1997 graduate of the university.
Veihmeyer will succeed Brennan, who has served as a member of the board since 2009 and was elected chair in 2015.
"Jack Brennan has been an extraordinary leader for Notre Dame, and I look forward to continuing to work closely with him over the next eight months," Veihmeyer said.
Veihmeyer also serves on the board of the Ford Motor Co., and chairs the boards of the Ladies Professional Golf Association and Catholic Charities of Washington D.C.