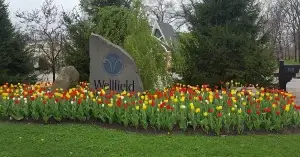 Wellfield Botanic Gardens, a 36-acre public garden in Elkhart, made a list of the top 200 best public gardens, according to a poll conducted by Good Plant Care.
Wellfield Botanic Gardens, at 1011 N. Main St., landed the 142nd spot on the list of gardens Americans would most like to visit during their lifetimes. Good Plant Care, a team of hobbyists and collectors around the world, polled 3,000 people to compile the list.
The living museum sits on the site of an active well for the city of Elkhart, according to the garden's website. The nonprofit leases the land from the city. In 2003, the Elkhart Rotary Club raised $235,000 to build the gardens.
The survey also showed that the average family polled visits their local public gardens nine times a year, and 91% of respondents said they improve their mental health.
"Visiting public gardens is a timeless pastime that continues to be popular for many reasons," said Tina Ho from Good Plant Care. "These green spaces provide a respite from our busy lives and a chance to connect with nature in a peaceful, tranquil setting. In an increasingly digital age, public gardens offer a way to unplug and unwind, and to experience the beauty and diversity of the natural world firsthand."
The top three gardens all were in Hawaii. Two other Indiana gardens were on the list: No. 151 was James Irving Holcomb Botanical Gardens in Shelbyville, and No. 195 was Garfield Park Conservatory and Gardens in Indianapolis.