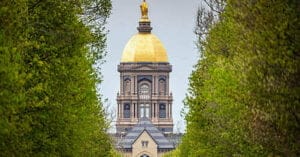 The golden dome on top of the University of Notre Dame's main building will be regilded after commencement ceremonies May 19-21.
After almost two decades, a new layer of gold leaf will be added to the dome that is 197 feet at its highest point. The process will take about five months, according to a press release. It will be the 12th layer since the dome and statue of the Virgin Mary were added to the building in 1883. It was built in 1879.
The process uses about a handful of gold leaf for the entire dome and statue surface.
It also was regilded in: 1886, 1893, 1904, 1912, 1924, 1933, 1948, 1961, 1971, 1988 and 2005.
The upper tower of the building also will be cleaned and repainted. An extensive scaffolding system will be installed May 22. The project is scheduled for completion in mid-October.
The building serves as the administration headquarters but does still house classrooms. It is the third building on the site, which replaced one that was destroyed by fire.
Caption: The University of Notre is regilding its golden dome. (Provided by the University of Notre Dame)