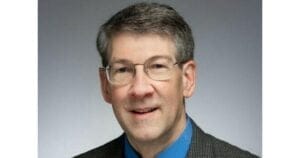 The University of Notre Dame's president, the Rev. John Jenkins, named Michael Hildreth vice president, associate provost and dean of the Graduate School.
Hildreth most recently served as a professor of physics and astronomy and senior associate dean for research and graduate studies in the College of Science. He has been a faculty member since 2000.
"From a pool of extraordinary candidates, Mike quickly rose to the top," said John McGreevy, the university's Charles and Jill Fischer Provost, in a press release. "He is admired by his peers on and off campus for his research expertise, creative energy and administrative acumen. He is poised to take our research and graduate studies programs to new heights."
Hildreth takes the reins from interim leader Tom Fuja, who led the department since last summer.
"I hope to build on strong existing programs to create a truly excellent set of opportunities for our graduate students and postdocs," Hildreth said.
Hildreth and other Notre Dame physicists played a critical role in the discovery of the Higgs boson in 2012 during experiments at the Large Hadron Collider at CERN near Geneva.
He is the co-author of more than 1,700 publications. He supervised $2 billion in grant applications from the science faculty.