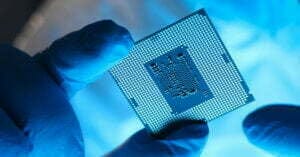 A new report by workforce data analytics firm Lightcast puts the Elkhart-Goshen area among the top 10 in the nation for semiconductor workforce readiness.
At No. 8, the Elkhart-Goshen area was listed with communities such as San Jose-Sunnyvale-Santa Clara, California, which was first, and the Portland-Vancouver-Hillsboro, Oregon and Washington, area, which was second.
"The data backs up what we've known for a long time — the workforce in Elkhart County is skilled, eager to learn and ready for the challenge of this burgeoning industry," said Chris Stager, president and CEO of the Economic Development Corp. of Elkhart County, in a press release.
The study comes on the heels of the CHIPS and Science Act of 2022, which commits $52.7 billion for semiconductor research, development and production in the U.S.
"America invented the semiconductor, but today produces about 10 percent of the world's supply — and none of the most advanced chips," a White House fact sheet said.
The Lightcast study, "Rebuilding Our Semiconductor Workforce: Making the Most of the CHIPS Act," reports that 230,000 new employees are needed to double the U.S. output of semiconductors as a percentage of global output.
The workforce readiness rankings considered those occupations associated with making more semiconductors and the number of workers that could fill those jobs to determine the best areas in the U.S. to produce them.
"An opportunity of this scale is rare, with $280 billion in spending through the CHIPS and Science Act dedicated to creating high-tech hubs and a highly skilled STEM workforce," Stager said. "We plan to make the most of this opportunity to advance Elkhart County's robust manufacturing capabilities."
The Semiconductor Industry Association describes semiconductors, or microchips, as the "brains of modern electronics."
"Chip shortages have revealed our dependence on overseas semiconductor suppliers," said Alan Seabaugh, the Frank M. Freimann Professor of Electrical Engineering at the University of Notre Dame, and the director of NDnano, Notre Dame's nanoscience and technology center, in the press release. "Universities and community colleges in Indiana, Illinois, Kentucky, Michigan, and Ohio are now coordinated to encourage and support the development of semiconductor manufacturing in the Midwest."
Bethany Hartley, president and CEO of the South Bend – Elkhart Regional Partnership, said partnerships with colleges and universities will be key to making semiconductors here.
"The CHIPS Act gives American companies an unprecedented opportunity," Hartley said. "Estimates from McKinsey (& Co.) show semiconductors will grow into a trillion-dollar industry by the end of the decade. With support from area colleges and universities, including an upcoming semiconductor manufacturing program through Ivy Tech, and the multi-state Midwest Regional Network, I expect this will be an up-and-coming industry for our region."
The study's top 10 areas in the U.S. for semiconductor workforce readiness:
San Jose-Sunnyvale-Santa Clara, California
Portland-Vancouver-Hillsboro, Oregon and Washington
Huntsville, Alabama
Boulder, Colorado
Kalamazoo-Portage, Michigan
Detroit-Warren-Dearborn, Michigan
Palm Bay-Melbourne-Titusville, Florida
Elkhart-Goshen
Reading, Pennsylvania
Grand Rapids-Wyoming, Michigan