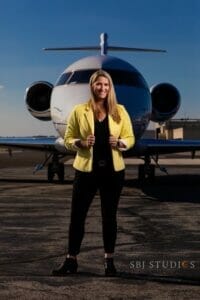 Ashley Thorsen, South Bend International Airport's operations manager, landed a spot on the 2022 Airport Business Top 40 Under 40 list.
"Every day is different, every problem is diverse, and working as a team to find the solution and seeing a plan come to fruition is the coolest, especially when it impacts the people who travel daily through my airport," Thorsen said on the AviationPros website.
Thorsen took the job in December 2020 after two years as an operations officer at the Raleigh-Durham International Airport in North Carolina.
She said that she fell in love with aviation as a child when her family would travel to Navy bases around the world. But her road to air traffic control was a bumpy one. A bad evaluation during FAA training in 2015 grounded her. But an opportunity at RDU's ramp tower put her back on track. She quickly made supervisor and then operations officer.
"Any type of negative thing that I've approached in my entire life, I've always tried to put an encouraging spin on it and make people feel invested and important in anything they do," she said in the award announcement.
Thorsen also is involved with Aviation Education Day, the Safety Management System Program and the Employee Appreciation Committee. She is a certified member of the American Association of Airport Executives, an Airport Cooperative Research Program contributor, a member of Women in Aviation International and The Ninety-Nines: International Organization of Women Pilots.
She also was recognized by Visit South Bend Mishawaka for engaging the community as a Faces of Tourism award winner.
The South Bend airport announced the Airport Business award on Twitter. The full list of winners is here.