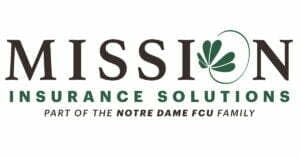 Shamrock Insurance Services, the insurance division at Notre Dame Federal Credit Union, rebranded with a new name of Mission Insurance Solutions.
The change came Feb. 27 to better align the operation with the credit union's array of services, according to a press release.
Mission Insurance provides personal insurance for auto, home, renters, RV, motorcycle and life coverage. Business coverage includes general liability insurance, product liability insurance, professional liability insurance and commercial property insurance.
The operation's mission is to provide "quick, easy, and reliable insurance solutions with exceptional service and no additional fees," said Taylor Valentine, of Mission Insurance Solutions.
The insurance provider has offices at:
1614 E. Day Road in Mishawaka
1828 Moreau Drive in Notre Dame
4645 N. 32nd St. Suite A-100 in Phoenix, Arizona.
Clients with current policies will not be impacted by the name change.
Notre Dame Federal Credit Union was founded in 1941 during the Great Depression and continues under the leadership of Thomas Gryp, president and CEO.