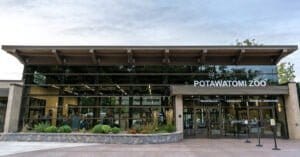 The Potawatomi Zoo in South Bend plans to open a new lion habitat this year.
"We've been planning to bring lions back to the zoo for two years now, and we're finally putting the finishing touches on their new habitat," said Josh Sisk, executive director of the Potawatomi Zoo, in a press release. "We'll be making a big deal as soon as they arrive, and visitors will get to see them immediately."
The zoo's season opened March 31 and ends Oct. 31. The Potawatomi Zoo Express Train and Endangered Species Carousel both will be open this year.
Giraffe feeding will be a daily attraction. Lettuce is on the menu.
"We can't wait to start giraffe feeding this year," Sisk said. "Last year the giraffes weren't ready for the public, but after a lot of conditioning and with help from the public, we anticipate that the boys will be willing to participate in daily feedings with visitors."
Other small projects are ongoing this season, including the construction of a bear habitat and a concessions facility. Zoo officials plan to open both in 2024.
The bear habitat will house Andean bears, also known as spectacled bears.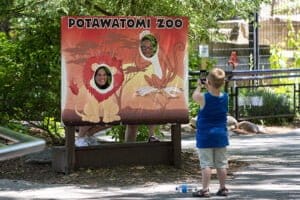 "Although people are more familiar with black bears, the opportunity to have spectacled bears, a South American bear species, is pretty exciting," Sisk said. "They're one of the Association of Zoos and Aquariums Species Survival Plans, so we'll have the opportunity to add additional bears or potentially have a breeding program."
Classes and camps will be offered this year, with zoo camp in the summer. Special events also are scheduled, including: Eat and Drink at the Zoo on May 20, Children's Day on June 14, Brew at the Zoo on Sept. 30, Zoo Boo from Oct. 20 to 22, and the Gift of Lights, beginning Nov. 24. Click here for details.
The zoo began as a duck pond in Leeper Park in 1902. It was established as Potawatomi Zoo in 1921 and was accredited by the Association of Zoos and Aquariums in 1987. It is home to more than 400 animals.