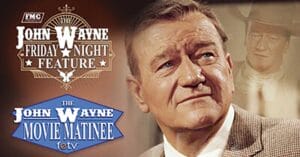 South Bend-based Family Entertainment Television Inc. will present films starring John Wayne starting in June.
The company first ran the films in 2022 with much success.
Movie titles include: "El Dorado," "Big Jake," "Rio Bravo" and "Sands of Iwo Jima."
"The FETV and FMC audiences have spoken – they love our John Wayne films, and they want more!" said Jaclyn Rann Cohen, executive vice president of content acquisitions and strategy for FETV and FMC, in a press release. "We are happy to oblige and have been hard at work building a bespoke schedule of quintessential John Wayne movies."
Starting June 2, Family Movie Classics will feature a John Wayne film every Friday night until December. The same movie will replay on Sunday afternoons.
The 2022 run on Sundays reached almost 3.2 million viewers, according to Nielsen Media Research.
FETV was launched in 2013 and features rerun shows and movies 24-hours a day. FMC was launched in 2021 and features movies from the 1930s to 1970s. Family Broadcasting Co., which is based in South Bend, owns both channels, which reach more than 50 million homes.