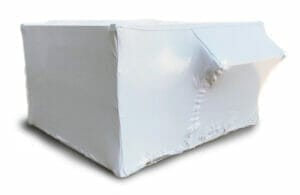 Patrick Industries completed its acquisition of Transhield, according to a Nov. 28 press release. Both companies are in Elkhart.
Transhield designs and manufactures covers to protect heavy equipment from corrosion and damage from hazardous conditions during transportation and storage. Ten patents protect the materials used in its products, according to the company's website.
"Transhield's innovative and quality product solutions have significant potential across multiple market sectors, and their culture, spirit and industry reputation for customer service are an ideal fit within our portfolio of companies and independent brands," said Andy Nemeth, chief executive officer of Patrick Industries, in the release.
He also said his company will offer financial and operations support to help Transhield grow its business.
Greg Todt invented the Transhield material in 1994. Now the company offers seven varieties of fabric for different industry uses.
"(We) are energized by the growth opportunities that Patrick and Transhield can pursue together, including the expansion of our market presence and leveraging Patrick's footprint to further develop our aftermarket channel — all while maintaining our brand identity and strong industry relationships," said Jim Glick, president of Transhield, in the release.
Earlier this year, Patrick Industries also acquired Diamondback Towers in Florida. Diamondback Marine manufacturers wakeboard/ski towers and other marine accessories.
"Diamondback's industry relationships, standards for quality and service, and engineering and design capabilities are an ideal fit with our full solutions model and strong brand portfolio," Nemeth said.
Both companies will continue operations at their current locations under their current names.
Founded in 1959, Patrick Industries employs more than 11,000 people across the U.S.