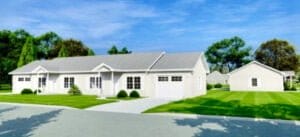 For the first time in 30 years, a new apartment complex is ready for new tenants in North Judson, thanks to town native Kirt Verhagen.
In 2021, Verhagen bought the property that now houses the Park Villa Apartments at the intersection of State and George streets across from the town park.
"North Judson and many other small towns are an underserved market where modern, low-maintenance, market-rate apartments are concerned," said Verhagen, of Verhagen Investments LLC, in a press release. "Our aim is to provide these types of apartments in attractive settings close to amenities."
The apartments are close to downtown and North Judson-San Pierre Schools. A ribbon-cutting ceremony took place March 25.
The multi-family housing units include four duplex-style apartments that each have two bedrooms, two bathrooms and an attached garage. Units come with a washer and dryer, appliances, and include lawn care and snow removal with monthly rent.
Verhagen also said, because he is from North Judson, he wants to see the town grow.
"(I) would like to see the town attract new residents and thrive," he said. "Ensuring new housing is available helps that happen."
Lisa Dan, Starke County Economic Development Foundation executive director, said Verhagen's efforts are commendable.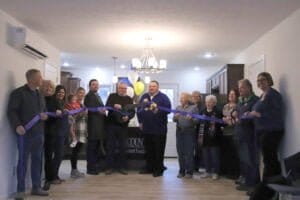 "Starke County is no different than most rural communities when it comes to a lack of housing inventory," Dan said. "There are only 44 homes for sale countywide right now. … We are thrilled to see this growth in North Judson."
The foundation works with stakeholders on the county and local levels, including elected officials and contractors, to facilitate opportunities for affordable housing in their communities.
North Judson Town Council President John Rowe also is happy about the development.
"The fact that one of our native sons has chosen to invest here is a testament to what a wonderful and unique town North Judson is," Rowe said.
Verhagen isn't stopping with four units. He plans to build more at the Park Villa site.
"We are already fully rented at Park Villa, even before construction concluded, so things look positive for future building," Verhagen said.
He also owns more land downtown where the possibility of more development depends on response to the Park Villa location.
Osborne Advantage Real Estate in North Judson manages the apartments.
Verhagen and his family are involved in other aspects of regional economic development. He and his wife partnered with the foundation to host a business pitch competition similar to "Shark Tank" last year. His family also created the The Verhagen Family Fund in honor of their father, Roger, who died in 2019.