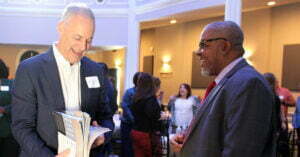 Momentum is building for a new mixed-use development on the You Are Beautiful site in Michigan City. SoLa developers are moving efforts forward with an initial concept for the $250 million housing and retail project.
The Economic Development Corp. Michigan City hosted Scott Goodman, founding principal of Farpoint Development and Decennial Group, during a recent breakfast to discuss the project.
"Every time I drive into Michigan City, I see the character and creativity – it is a great place to have families come and play," said Goodman in a press release. "SoLa has advantages for both residents, guests and the community at large, including an amenity deck with pool, hot tub, landscaping and retractable roof."
Two Wyndham hotels are part of the project, and 160 condominiums, 18 townhomes and penthouses, and 36,000 square feet of outdoor space. SoLa Hotel is a trademark collection by Wyndham. TRYP by Wyndham features 135 bunk-bed rooms.
Clarence Hulse, executive director of the Economic Development Corporation Michigan City, said the project will combine tourism and quality of life for those who call Michigan City home.
"Our city is poised to be the place for seasonal and year-round residents as well as visitors as we continue to bring in projects that are rooted in innovative ideas and ignited by true visionaries," Hulse said.
Investors expect SoLa to attract about 100,000 hotel guests a year, resulting in 800 temporary, seasonal or permanent jobs, according to its website. It also said it expects the development to have $679.2 million in total economic impact over the next 15 years, along with $8.2 million in annual tax revenues.
Caption: EDCMC Executive Director Clarence Hulse speaks to Scott Goodman, founding principal of Farpoint Development/Decennial Group, at a recent breakfast. (Provided by EDCMC)