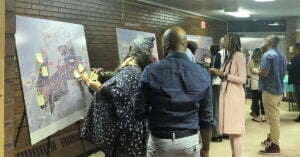 The Economic Development Corp. Michigan City wants the community to have many opportunities to share ideas about the Vibrant Michigan City initiative.
"We truly want accountability and ownership of this plan by as many community members as possible in order to set the stage for a successful implementation," said Clarence Hulse, executive director of the Michigan City Economic Development Corp. in a press release. "We do not see this as a research project that just looks good on paper. We see this as a plan of action locally created for our community by our community."
Community members are encouraged to attend an information-gathering session at 6 p.m. April 20 at the Michigan City HOPE Community Center, 222 McClelland Ave. The meeting is part of the learning lab process through July. Leaders hope the engagement period of the process will unite city, nonprofit, business, government, economic development experts and real estate advisers in sharing their ideas on creating a more financially inclusive community.
"Our focus is on the midtown, east and west neighborhoods as we delve into how we can cultivate economic prosperity for all of our community members," Hulse said.
The Indiana Economic Development Corp. supports the effort, which focuses on small cities in Indiana's READI program regions. The Brookings Institutions also offers experts from its Bass Center for Transformative Placemaking and its "Community-Centered Economic Inclusion: A Strategic Action Playbook."
The same process also is underway in Seymour and Warsaw. Learn more here.