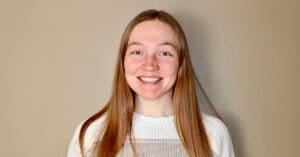 Katelyn Swistek is the new marketing and events manager for the Michigan City Chamber of Commerce.
Swistek's duties include event planning, marketing and collaborating with committees.
"I am excited to be a part of the Michigan City Chamber of Commerce and can't wait to make new connections by working with various members of the community," Swistek said in a press release. "The chamber's work is so beneficial to the Region's business community, and I look forward to working with committees to help plan out events!"
Swistek earned a bachelor's degree in marketing from Purdue University Northwest and interned at Signature Graphics in Porter. She also served as a mentor in a Michigan City youth leadership program.
"We are thrilled to have Katelyn join our small team at the chamber," said Katie Eaton, chamber president. "She is a welcomed addition as we grow our scope of work and continue to promote our amazing community."
The lifelong Michigan city resident also will manage social media and serve as a liaison for the chamber's young professionals committee, Lakefront Career Network.