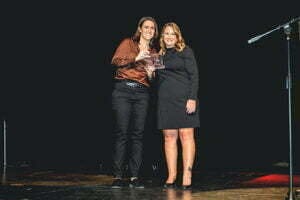 The Michigan City Chamber of Commerce celebrated a year of accomplishments at is annual dinner and awards celebration Feb. 17. The organization also presented its annual awards.
Katie Eaton, chamber president, said the organization gained 70 members and implemented a new strategic plan in 2022.
"We gather to celebrate the success of our chamber, our members and our community," Eaton said in a press release. The celebration took place at the Startdust Room at the Blue Chip Casino.
Board Chair Kim Giannetti, with General Insurance Services, presented Michigan City native Megan Applegate, past board member and chair, with an Excellence in Leadership award for her eight years of service. Applegate has been a CPA with Applegate & Co. since 2014. She also is a volunteer firefighter and emergency medical responder for the Long Beach Fire Department, among other volunteer work.
The chamber also announced the winners of its annual awards:
The evening concluded with a challenge from Don Babcock, longtime regional economic development leader who retired from NIPSCO at the end of 2020. He asked the crowd "Why not," and challenged the audience to be bold about how to grow the business community in Michigan City.
Babcock joined the staff of Purdue University Northwest Chancellor Thomas Keon part time, as director of economic development and community relations in 2021.
The Michigan City Chamber of Commerce was established more than 100 years ago to promote economic development in the area.