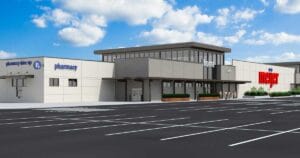 Meijer plans to open a new 159,000-square-foot store in Elkhart on May 11. It will be the Grand Rapids, Mich.-based retailer's 42nd Indiana location.
Along with Meijer's usual departments, the store also will feature a garden center, pharmacy, pet section, electronics, toys, sports and apparel. A gas station next to the store will open April 13.
"We know that value and convenience are key for our customers, and the new store will provide both for Elkhart residents," said Maureen Mitchell, vice president of the Indiana-Kentucky region for Meijer, in a press release. "Meijer is committed to investing in northern Indiana, and we look forward to providing a more convenient option close to home for grocery and other everyday needs here in Elkhart."
Meijer, which was founded in 1934, opened its first store in Indiana in 1994 in Mishawaka. It also has a manufacturing facility in Middlebury. Meijer employs 10,000 people statewide. The family-owned company operates 241 stores in Michigan, Ohio, Indiana, Illinois, Kentucky and Wisconsin.