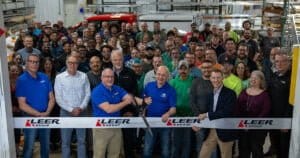 Leer Group celebrated the opening of its new manufacturing facility in Elkhart with a ribbon cutting April 5.
The facility will help the company make more commercial aluminum truck caps, which covers the bed of a truck. Leer Group spent $1.5 million on equipment and technology at the site, according to a press release.
"The facility will provide increased production capacity needed to accommodate significant growth, specifically in the commercial and fleet segments of our business," said Curt Cline, vice president of operations at J.B. Poindexter & Co., Leer's parent company.
He also said the facility will help mitigate supply chain issues.
"This facility opening couldn't have come at a more opportune time — when lead times are extreme, it gives us the capacity to reduce delivery times to better meet the needs of our customers in today's important commercial segment," Cline said.
Leer Group, a collection of companies, manufactures its products at plants in Indiana, California, Oregon, Pennsylvania, Washington and Mexico. It also has 1,300 independent dealers in North America. Leer Group has been a business unit of J.B. Poindexter & Co. since 1987.