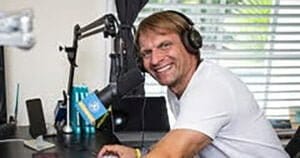 La Porte native J.B. Glossinger's career took him from an account manager to a vice president of marketing, but he said, the work didn't make him happy.
That's why reaching 5,000 episodes of his online personal development program, MorningCoach, means so much to him.
"Reaching episode 5,000 is proof that the world needs positive change," he said in a press release. "MorningCoach would not have been able to reach this milestone without the support of our listeners from over 100 countries and our talented hard-working production team."
Glossinger founded the program that offers listeners a positive way to start their day in 2005.
Before that, he earned a degree from Ball State University and an MBA from the University of Phoenix, and found himself in leadership positions at for-profit companies.
"Through all of that, though, I never found real peace and happiness, so I looked deep within and focused on spirituality and metaphysics … Slowly, I started to transform my life from the inside out," he said on his website.
Glossinger also offers motivational speaking. He attended La Porte High School, and recently spoke at a Michigan City Chamber of Commerce high school leadership event. He now lives in Florida.
His podcasts can be found on iTunes, which earn high marks from listeners. His Facebook page has 137,000 followers.