Of 54 companies, Kidstuff Playsystems in Gary landed a spot in the final four of the Coolest Thing Made in Indiana competition. Their tri-ride slide is, at the least, the fourth Coolest Thing Made in Indiana.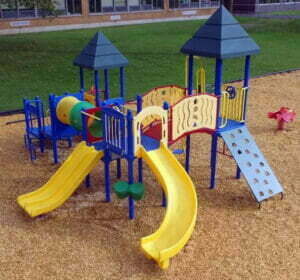 The final four competitors were:
Hiker Trailers in Columbus: a custom teardrop camping trailer
Kidstuff Playsystems in Gary: a tri-ride slide
Maple Leaf Farms in Leesburg: roast half duck
Polywood in Syracuse: Elevate 12-piece pit sectional
Maple Leaf Farms and Polywood are competing in the finals for the title. Voting continues through 10 p.m. ET Nov. 30 for a winner. The top companies will be honored and the champion announced during the Indiana Chamber's Best IN Manufacturing Luncheon on Dec. 14 in Indianapolis.
Other competitors from the Region were:
Belstra Milling Co., DeMotte
Bionic Prosthetics & Orthotics, Merrillville
Dec-o-Art, Elkhart
Janus Motorcycles, Goshen
Kimball International, Jasper
Models Plus, Kingsford Heights
Pure Green Farms, South Bend/Elkhart
Talbert Manufacturing, Rensellaer
Wag'n Tails Mobile Conversions, South Bend
Weiland Designs, Goshen
Original matchups were generated randomly online. Find the complete semi-final bracket here. Competition entry was free. Companies entering were not required to have headquarters in Indiana, but the products had to be manufactured in Indiana.