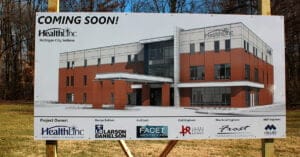 The U.S. Department of Health and Human Services awarded Valparaiso-based HealthLinc a $500,000 federal grant to create a dental residency program.
The grant is part of the Teaching Health Center Planning and Development program, which focuses on increasing residency training for primary and dental care in underserved communities.
"I appreciate that this dental residency program will address health disparities and increase dental care options in areas that normally do not have such care available," U.S. Rep. Frank Mrvan said in a press release. "I look forward to seeing how this program will build upon the success of HealthLinc to provide such invaluable health care services to those in need throughout our Region."
The HealthLinc grant will help address worker shortages in rural and underserved communities by offering training for careers in Northwest Indiana. Students will be encouraged to use their skills in areas without adequate health care.
"The program adds to our existing family nurse practitioner, clinical pharmacy and family medicine residencies and our medical and dental assistant training programs, which are dedicated to training the next generation of health care professionals and address the ongoing provider shortage," said Beth Wrobel, HealthLinc CEO.
HealthLinc, which is a not-for-profit Federally Qualified Health Center, began in 1996 as Hilltop Neighborhood House Health Center. In 2001, it became a state-funded community health center separate from Hilltop. It also started offering dental services that year. It moved to Valparaiso in 2003. In 2007, its name became HealthLinc. Since then, it has opened more than 20 locations in Michigan City, Knox, Mishawaka, East Chicago, South Bend and La Porte. Last fall, HealthLinc broke ground on a new $15 million state-of-the-art clinic in Michigan City in collaboration with Ivy Tech Community College.