Goodwill Industries of Michiana is celebrating the grand opening of The Academy at the Goodwill Bendix Campus on May 26.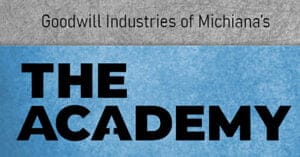 The Academy, at 2721 Kenwood Ave. in South Bend, provides technical skills training for manufacturing jobs. It serves the counties of La Porte, Elkhart and St. Joseph.
"We are so excited that classes have begun at The Academy, and students are now going into skilled trade positions where they can expect to make good money," said Debie Coble, president and CEO of Goodwill Industries of Michiana Inc. in a press release. "Our goal is to provide training opportunities for in-demand skilled trade jobs in our community."
Classes will include certifications in automotive, construction, welding and CNC manufacturing. Training also is available in digital skills, customer service and sales. There is no cost to students.
Goodwill's retail stores help fund the employment and training services they provide. Goodwill Industries of Michiana Inc. has served the South Bend community since 1936.