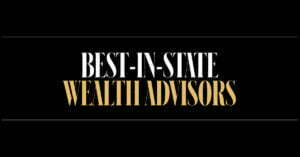 Several North Central Indiana financial advisers were listed on Forbes recently released 2023 Best-in-State Wealth Advisors rankings.
More than 39,000 advisers were nominated for the list and met strict guidelines for the interview process, which included 22,243 online surveys, 17,546 telephone interviews, 3,557 in-person onsite interviews and 1,361 web-based interviews. SHOOK Research compiled the rankings, which include 7,321 advisers nationwide.
Requirements included: seven years of experience as an adviser, minimum one year with at current firm, firm must nominate, completion of online survey, and analysis of financial results and compliance.
The following North Central Indiana wealth advisers were listed on the Indiana list, which included 104 advisers:
No. 21: Matthew Kahn, Merrill Lynch Wealth Management, South Bend
No. 37: Jim Ruthrauff, Merrill Lynch Wealth Management, South Bend
No. 44: Thomas Olson, Baird, Mishawaka
No. 47: Stockton Schultz, UBS Wealth Management, Mishawaka
No. 48: Edward Patzer, The Patzer Group Wealth Management, Mishawaka
No. 77: Leo Priemer, Edward Jones, South Bend
No. 81: Elizabeth Borger, Stifel, Elkhart
No. 84: Ryan Drake, Edward Jones, Goshen
Find the full list of Indiana advisers who made the list here.