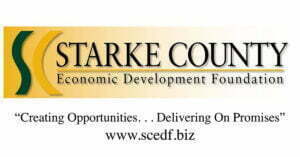 Economic leaders in Starke County know they need a hotel. They have a feasibility study that shows the area needs 50 to 60 rooms to accommodate business and entertainment guests.
But national brand hotels want to see local investment before they will agree to come to Knox. The Starke County Economic Development Foundation hopes to meet that requirement by launching a crowdfunding campaign.
"We have heard from several community-minded people who want to see this project succeed but aren't able to make six-figure investments," said Lisa Dan, executive director of the foundation, in a press release. "Our board agreed we should launch a crowdfunding effort to encourage these types of donors to participate."
Dan said Starke County doesn't have a franchise hotel, leaving no place to stay between La Porte and Logansport on U.S. 35.
"The Starke County Airport can accommodate corporate jets, but business travelers have to stay outside of the county," Dan said. "This additional travel time cuts into productivity for our industries."
The feasibility study was paid for by the Starke County Convention and Visitors Commission and the city of Knox.
Dan said they have a place for a hotel already, they just need a company to agree to come.
"We have secured a location and are working with hotel developers," Dan said. "We continue to connect them with potential investors."
Projects like the Mammoth Solar project bring company employees and construction workers to the area who need a place to stay. The city also hosts sports tournaments, festivals and other entertainment at Wythogan Park that might attract more visitors if there was a hotel nearby.
"Starke County is also home to Jager Elite K-9, which is an accredited training facility for law enforcement K-9 handlers," Dan said. "Their business is hampered by the lack of accommodations for the officers themselves. The dogs can spend the night at the facility, but the officers can't."