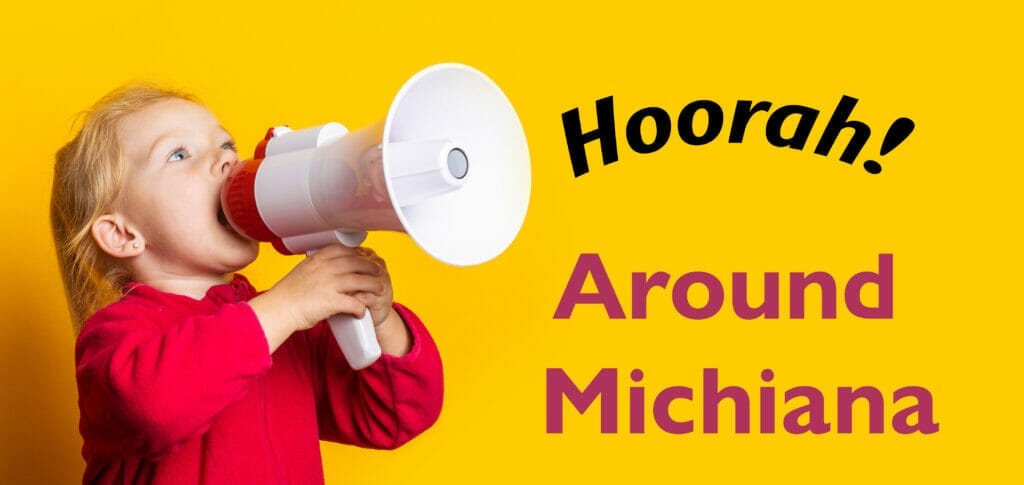 More than 30,000 businesses call the Region and Michiana areas home. That's a lot of employees, locations, and products and services. According to Forbes, Indiana will be the best state to start a business in 2023. That means more businesses opening and more people who will be hired.
Here we share some of those recent honors and recognitions received by businesses and their workers in Northwest Indiana Business Magazine's coverage area, which includes Lake, Newton, Porter, Jasper, La Porte, Starke, Pulaski, St. Joseph, Marshall and Elkhart counties in Indiana:
Banking
Merrillville-based Centier Bank announced several promotions: Lydia Post to vice president, small business banking group manager; Pia Parrott to assistant vice president, branch manager of the bank; Yolanda Estrada to vice president, processing and underwriting manager; Brooke Christ to vice president, mortgage loan officer; Kelly Hendrickson, vice president, mortgage loan officer; and Jennifer Pack to assistant vice president, mortgage loan officer. New hires also were announced at the bank: Donald Rome, chief risk officer; Matthew Sharp and Dave Greer, mortgage loan officers, and Brandon Matthews on the Greenwood mortgage team.
Education
Joanna McNulty was named associate vice president for academic finance and administration for the University of Notre Dame. Also promoted were Tami Schmitz, Kate Barrett and Mike Buckler to director positions. David Go, the Viola D. Hank Professor of Aerospace and Mechanical Engineering and chair of the Department of Aerospace and Mechanical Engineering at the University of Notre Dame, has been appointed vice president and associate provost for strategic planning, effective June 1.
Former Notre Dame Provost Marie Lynn Miranda was named chancellor-elect at the University of Illinois Chicago.
Stephanie Weber was named Ivy Tech Community College's vice president for Ivy+ Career Link.
Engineering
Benton Harbor-Mich.-based Wightman, an employee-owned consulting firm, opened a new office in Southgate, Mich., and hired Department Manager Emmanuel Kollias, Senior Project Coordinator Joe Guitierrez, and Senior Project Coordinator Kathleen Lilienthal-Williams.
Health care
The Franciscan Physician Network announced new doctors: Board-certified endocrinologists Wafa Dawahir and Nirmal Nair; Dr. Albert Naveed, a board-certified pulmonary and critical care doctor, in Michigan City; Victor Benavides, a board-certified family medicine doctor, at the LaPorte Health Center in La Porte; obstetrician/gynecologist Gordon Skeoch, at the Family Wellness Center in Munster; audiologists Jackie Fletcher and Erin Pluard, Coolspring Health Center in Michigan City. Medical oncologist and hematologist Shuai Qin joined the Franciscan Health Cancer Center Munster. Medical oncologist Meshaal Khan joined Franciscan Health Woodland Cancer Care Center in Michigan City.
Hospitals in Crown Point and Michigan City were among five Franciscan Health facilities recognized by the Indiana Hospital Association through the INspire Hospital of Distinction recognition program for their commitment to infant and maternal health.
Community Healthcare System recently welcomed four doctors to the Community Care Network team of physicians: surgeon Nico Del Piccolo, St. Mary Medical Center and Community Hospital; family medicine physician David Lynch Jr., Community Hospital in Munster; interventional cardiologist Omar Obaid, St. Mary Medical Center and Community Stroke and Rehabilitation Center; orthopedic spine surgeon James St. Clair, Community Hospital and St. Mary Medical Center.
Gabbi Sexton earned a Daisy Award for exceptional nursing from Northwest Health – La Porte.
Nurse practitioner Alexandria Molaro, joined the family medicine practice of Joseph Arulandu and Vinay Tumuluri at Northwest Medical Group 's new medical office at 6923 W. 400 North in Michigan City. Family medicine physician Ather Malik, joined Northwest Medical Group in Valparaiso.
Marketing
Merrillville's VIA Marketing recently added several employees to its team: Ashley Williams as a digital specialist and Daniel Dunevant as a web developer.
Nonprofit
Linda Brooks, president and CEO of the Valparaiso-based nonprofit BCH Inc., celebrated 40 years with the organization in 2022.
Small business
Adam Harjung joined the Perma-Seal team as the PolyLevel and structural installation manager. Perma-Seal has an office in Hammond.
News
The Crossroads Regional Chamber of Commerce celebrated several ribbon cuttings in November and December 2022: Saturday Sangria Bakery & Cafe, 10719 Randolph St., Winfield; Orean Beauty, 1931 Northwind Parkway, Hobart; DSHAIC, 5164 E. 81st Ave., Merrillville; Village Medical, 10795 Broadway, Crown Point; Modern Woodman, 6 E. 67th Ave, Merrillville.
South Bend Orthopaedics, a division of Ascendant Orthopedic Alliance, opened a new physical therapy office at 5230 Beck Drive in Elkhart.