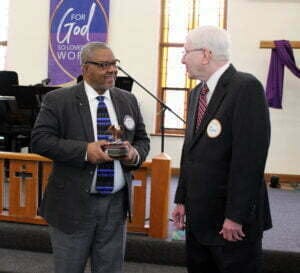 Michiana Business News shares the recognitions and grants that community leaders, companies and universities earned for their successes. The awards were announced in press releases.
Clarence L. Hulse, executive director of the Economic Development Corp. Michigan City, earned the Paul J. Alinsky Excellence Award from the Rotary Club of Michigan City during a March event at the Michigan City Salvation Army. The award recognizes community members who show servant leader values and become "shining examples" in their professions.
Chicago-based @properties | Christie's International Real Estate, which has agents in the Region, was named to the 2023 HousingWire Tech100 for the second consecutive year. The award recognizes the 100 top technology-focused companies in real estate.
Several Northwest Indiana and Michiana companies earned a spot on the 2023 FDMC 300 list, which ranks the largest wood-making manufacturers in the nation. Goshen-based Genesis Products earned No. 34. Nappanee-based Kountry Wood Products landed No. 59. Elkhart-based Patrick Industries Inc. earned No. 69. Lowell-based Saco Industries Inc. was No. 175.
Pittsburgh-based United States Steel Corp., which has locations in East Chicago, Gary and Portage, and Cincinnati-based Fifth Third Bank, which has locations throughout the Region, each earned a spot on Ethisphere's 2023 World's Most Ethical Companies honoree list.
Purdue University Northwest Indiana was recognized as a Top Producing Institutions for Fulbright U.S. Students and Scholars by the U.S. Department of State's Bureau of Educational and Cultural Affairs. Two PNW faculty members received Fulbright awards for the 2022-23 period, including Maureen Mascha, associate accounting professor, and Meden Isaac-Lam, associate professor of chemistry.
The University of Notre Dame also is among the top institutions producing Fulbright scholars for the ninth consecutive year, according to the U.S. Department of State's Bureau of Educational and Cultural Affairs. Twenty-eight students from Notre Dame were selected for the Fulbright U.S. Student Program for academic year 2022-23, fifth among all colleges and universities in the nation.
Share your press releases by emailing Managing Editor Heather Pfundstein at hpfundstein@linkermediagroup.com.