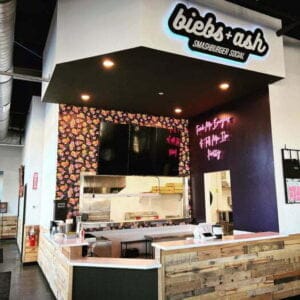 Biebs & Ash is ready to start smashing burgers at its second restaurant in the Sun King Mishawaka brewery.
The burger place opened its first location in Goshen in the middle of the pandemic, according to its website.
"In a time of widespread restaurant closures, we wanted a space to throw caution to the wind and give the locals a new 'hangout,'" it said.
The Mishawaka location at 235 Ironworks Ave. in Mishawaka's historic downtown is the second location. It first opened in downtown Goshen at 133 S. Main St.
Biebs & Ash is known for its West Coash-inspired smash burgers with loaded fries. Sun King Mishawaka is a family-friendly taproom and concessions partner to the Ball-Band Biergarten in the Ironworks Plaza in Mishawaka.
Hours at Biebs & Ash are limited, and they don't take reservations. But customers on social media say it is worth the wait.