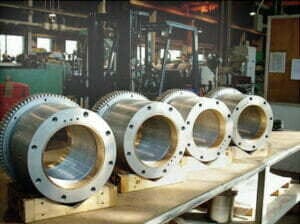 Andy Bodnar was ready to tackle new opportunities and spend more time with his family. But the process to find a successor for his company, Benton Harbor-based Kelm-Acubar, took a little longer than he anticipated.
Luckily, with the help of Calder Capital, he found The Armor Group in Mason, Ohio, to pass on his legacy.
"There were definitely ups and downs along the way, but I sincerely applaud the efforts of Calder," Bodnar said in a press release.
He credits adviser Shane Kissack's patience and knowledge with guiding him in the right direction.
"He always took the time to answer my questions," Bodnar said, "and I felt he was always on my side."
The process took two years to close, but both are pleased with the outcome.
"I am happy we could connect Armor with Andy for his divestiture of Kelm-Acubar," Kissack said. "It is a great fit."
The Armor Group website said that the company will be known as Armor Acubar under its Armor Contract Manufacturing Division.
"Incorporating Kelm-Acubar with our existing machining operations will provide increased offerings and capacity to meet growing demands well into the future," the website said.
Kissack said their patience paid off.
"After working on this project for close to two years, it is satisfying that we have the right
outcome for Andy and the legacy of Kelm-Acubar," he said.
Their efforts were noticed.
"Both Andy and Shane exhibited tremendous patience and determination in getting this transaction to the finish line," said Max Friar, managing partner of Calder, which is in Grand Rapids, Michigan.
Bodnar purchased the Kelm Manufacturing Co. in 1986 from Otto Kelm, who founded the company in 1963. In 2002, he merged Kelm with Acubar, which he started in 1991, at the 1055 N. Shore Drive location. Kelm-Acubar provides precision machining services to vendors in aerospace, defense, nuclear and other industries. It has 22 employees.
The Armor Group owns nine companies that manufacture engineered products and offer aftermarket services, including locations in South Bend for metal stamping and Elkhart for CNC machine tooling.