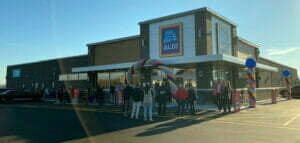 ALDI celebrated a grand reopening Nov. 10 at its new La Porte location at 199 Pine Lake Ave.
The move was made to add more space for "fresh, high-quality products," said Laura Bauer, regional vice president for ALDI, in a press release.
"We are excited to provide local shoppers a revamped and refreshed ALDI store designed to make grocery shopping smarter, faster and easier," Bauer said. "We are always looking out for the needs of our shoppers."
The former location at 1234 W. State Road 2 closed Nov. 9.
ALDI recently was voted one of the country's most trusted grocery retailers by BrandSpark, earning the No. 3 spot nationally and in the Midwest.
The company also recently announced an initiative to end the use of all plastic shopping bags at the stores by the end of 2023.
ALDI has 2,200 stores in 38 states, with 120 stores in Indiana, according to the Aisle of Shame website, which is a reference to the center aisle of ALDI stores that carries seasonal merchandise.