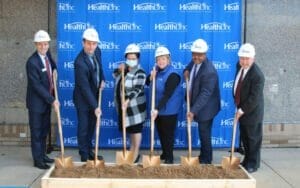 Providing access to health care for Michigan City residents was a key point in deciding to build a new HealthLinc facility at 200 Alfred Ave.
"This grassroots construction project will firmly plant HealthLinc's roots as a permanent provider of quality affordable health care to the people of Michigan City," said Michigan City Mayor Duane Parry in a press release.
The $15 million facility will sit behind Ivy Tech Community College, just a bus ride away.
"The most vulnerable don't always have access to a car and have a day of planning on a bus to get to a location," said Congressman Frank Mrvan in the release. "To be able to centralize services and health care is a great thing."
The location is strategic. Ivy Tech health care students will have the chance at hands-on experience there.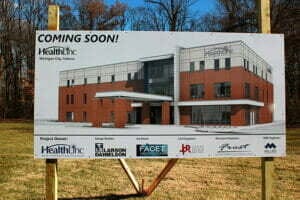 "The pandemic proved that there are not enough health care workers, and people are retiring at a quick rate," said Beth Wrobel, HealthLinc CEO. "This opportunity with Ivy Tech will teach future health care workers and demonstrate what it really looks like to provide affordable and comprehensive health care."
The 39,000-square-foot building will feature 33 exam rooms, two procedure rooms, 12 dental spaces and a community center. The clinic is expected to open in early 2024.
HealthLinc is a nonprofit Federally Qualified Health Center that offers many health services regardless of a person's ability to pay. HealthLinc opened Hilltop Neighborhood House in 1996 in Valparaiso. Since then, it has expanded to 12 offices, two telehealth clinics, and a mobile health and dental clinic. The Michigan City clinic opened in 2008 at 710 Franklin St.