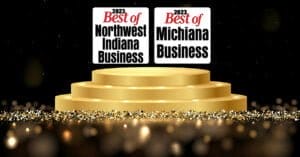 Our partner organization Northwest Indiana Business Magazine has announced the winners of the 2023 Best of Business Awards.
The 2023 Best of Business Awards winners found ways to make the best of a difficult year, and our readers took notice!
The annual online awards highlight the businesses our readers voted the best in Northwest Indiana and Michiana in 30 categories across six distinct categories. The winners excelled at providing many services and products to the more than 1.3 million people who call the Region home.
The companies that thrived in 2022 embraced the challenges and focused on their employees and customers. As for 2023, business owners say they are ready for growth and finding the right solutions.
Find the list of winners here.