HelloFrom earned $2,000 during the Founder Factory's "Shark Tank"-style pitch competition Nov. 16 at the Lerner Theatre in Elkhart. Metropolis Greens and Take Care, South Bend, each received $1,500.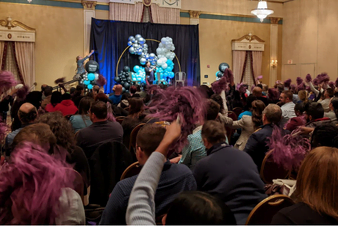 The sold-out event by Startup South Bend – Elkhart, a nonprofit initiative of the South Bend Elkhart Regional Partnership, included keynote addresses by Jewel Burks Solomon, U.S. head of Google for Startups, and Justin Dawkins, a co-founder and co-chair of Goodie Nation.
"The fact that this event has sold out twice in the two years we've held it is a testament to the strength of our regional entrepreneur ecosystem," said Bethany Hartley, president and CEO of the South Bend – Elkhart Regional Partnership, in a press release. "Entrepreneurship can seem like a lonely path, so to bring these founders and supporters together for a day of networking — it's a powerful thing."
Cecilia Wessinger, the director for global community with the Global Entrepreneurship Network, was the special guest.
"Some of you are entrepreneurs of need, people like me, who said, 'Well, I'm 50 years old, who's going to hire me with this set of skills, but I've got an idea and I think I can make this idea work,'" said Wessinger, according to a press release. "So, it sparks that creativity. Some of you have an itch to scratch and see an opportunity."
The winners of the pitch competition certainly fall into that category.
HelloFrom, whose founder Ryan Biggs worked for the IDEA Center at the University of Notre Dame, is a greeting card startup that allows users to schedule important dates and choose cards for their loved ones.
Metropolis Greens, started by Otho Farrow, grows produce from vertical farms with a mission to teach young adults about new technologies in farming.
Take Care, South Bend, sells subscription care packages that include items from South Bend's small business community. Founder Annie Johnson said on the company's website page that she fell in love with the town when her family moved there in 2008.
Founder Factory was part of the Indiana Economic Development Corp.'s Global Entrepreneurship Week, which kicked off a new initiative by the state: Entrepreneurship Indiana. It includes a new website, www.entrepreneurshipindiana.com, and a publication that spotlights 100 entrepreneurs from around the state. The day included programs, discussions and the pitch competition.