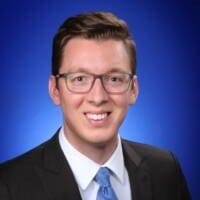 Three nominees are being considered by Gov. Eric Holcomb to fill a vacant post on the Indiana Utility Regulatory Commission.
The nominees are:
Justin Brugger, chief financial officer, Fort Wayne City Utilities
David Veletta, senior administrative law judge, IURC
Lucas Wilson, senior legislative assistant and policy analyst for the Indiana House Republican Caucus
The vacancy was created following the resignation of Commissioner David Ober, who was appointed to the commission by Holcomb in 2018. Ober was hired as vice president of taxation where he's working as a lobbyist for the Indiana Chamber of Commerce.
The nominee will serve the remainder of Ober's term, which expires Jan. 31, 2024.
Ober represented House District 82 in the Indiana House of Representatives from 2012 to 2018 before being appointed to the IURC.